So it has now been a whole 25 years for me in Petts Wood at Face & Body Clinic. Myself, and my therapists' education and knowledge are key to serving our Clients. We specialise in anti-ageing and advanced skin therapy and are renowned for our tailor-made treatments to achieve maximum results. My passion for results and client happiness/satisfaction is forefront, and together with my solid team, we strive for excellence in customer service. Our team are highly experienced and qualified. We specialise in anti-aging, wrinkles, acne plus other skin concerns and offer you a skin consultation to ensure the best results driven treatment from Spray Tanning, Lashes, Waxing and of course our fantastic range of nail treatments plus more. Why not pop in to discuss the treatments that we can offer you for your beauty regime.
Testimonials
"my feet and hands look and feel fabulous, ready for my night out! thanks to all at face and body clinic"

"thanks so much for my fabulous eyelashes, I feel a million dollars"
SKINADE – Feedback from a satisfied Client
"I just wanted to say how much I am loving the Skinade Derma Defence. Despite only taking this for three weeks, I can already see a real improvement in the texture and clarity of my skin and I actually received a lovely comment on how good it looked this week. Thank you for recommending it to me."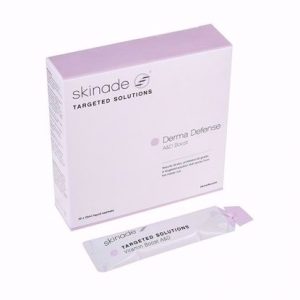 Meet the team
Katy Hallam – Owner

Face & Body Clinic has been established since 1996 and is owned by Katy Hallam. Katy is an advanced Skin Specialist and carries out advanced treatments to ensure you look and feel amazing. She is a hands on practitioner who incorporates her holistic approach with each client. She is an expert in skin tag removal, mole removal and electrolysis. Her favorite treatment for herself is back massage followed by an intense facial fusion treatment Katy leads a team of professional therapists, skin specialists and doctors.

Becky

Becky joined Face and Body 22 years ago after leaving to have a family. Becky has returned back to Face and Body on a part time basis. Becky is a senior, confident , Therapist in all areas of beauty, she mostly enjoys creating bespoke facials for her clients.

Fee _ Currently on Maternity Leave

Fee is a Senior Beauty Therapist and has been with us since 2005. She thrives on knowledge and new treatments plus helping clients get the best skincare. Her speciality is advanced electrolysis and facials, achieving fantastic results. Fee's favourite treatment for herself is a relaxing body massage.

Chelsea

Chelsea is a senior therapist with 12 years experience. Chelsea is a very precise and professional Therapist. Chelsea takes great pride in all her treatments. Chelsea's latest treatment is the amazing Henna Brows.

Holly

Holly is one of our Senior Therapists at Face and body. Holly has been with Face and Body for 6 years and is now experienced in all her treatments. Holly specialises in LVL and Lash Extensions and takes great pride in her work . Having not long returned to Face and Body from a period of Maternity Leave, Holly has changed her hours to: Monday 10.00-15.00, Tuesday 17.00-20.00, and Friday 13.00-18.00

Beth

Beth is our youngest member of the team at 22 years old . She has been in the beauty industry for 5 years and is an all round therapist . Beth takes great pride in her favourite treatments manicures and pedicures .

Rosie Bellington

Rosie is an advanced semi-permanent make-up specialist who started her company in 2011. She is a qualified Master and trainer to students who are studying semi-permanent make up. Her skills include medical micro-pigmentation to help scars, skin grafts and cleft lips. Plus camouflage micropigmentation for scars and vitiligo, lip contouring, eyebrows and eyeliner.

Receptionist - Caron

Caron is one of two Receptionists at Face and Body and is always keen to chat to our clients about treatments and services. She has years of retail management experience and customer service to bring to the salon. Being a client for 25 years she understands how important our first class treatments are for our clients.

Receptionist - Helen

Helen is one of two Receptionists at Face and Body and first came to the Face and Body as a client 25 years ago. She joined Face and Body after 10 years and has fulfilled a childhood dream of working in the Beauty industry. Helen loves to talk to Clients about the amazing treatments and products which are on offer at Face and Body.

Annah - Aesthetics Nurse Prescriber

My name is Annah and I'm the new Aesthetics Nurse Prescriber at Face and Body Clinic. I qualified as a registered nurse in 2016 and am currently still nursing full time. Before my current role, I worked on surgical wards in a London hospital. These were then turned into COVID wards so I got stuck in and helped to care for all of the sick COVID patients we received. After the first wave, I decided that I wanted a change of direction, so, I opted for a nurse specialist role in the community. My aesthetics journey began 4 and a half years ago and I've enjoyed every bIt of it. I love injecting patients and making them feel better within themselves. My subtle enhancements are well appreciated and I thrive on perfect results. If I think you're unsuitable for a treatment, I won't inject and I'm brutally honest (in a diplomatic way). Currently, I offer anti wrinkle injections (the B word which I'm not allowed to advertise) and dermal fillers which also smooth out lines and plump areas that have lost volume. Profhilo is also another anti ageing treatment that I offer which is extremely popular with the over 40's. I'm also looking for models for fat dissolving injections too (if you're interested please contact the clinic). Please book in for a free consultation if you have any questions you'd like to ask. Look forward to meeting more of you

Sam

Sam is the newest member of our Team. Sam has been in the beauty industry for 12 years now. She is an all rounder Therapist who specialises in massage.